Carrier Ductless Mini Splits in Homes Near Freeland, PA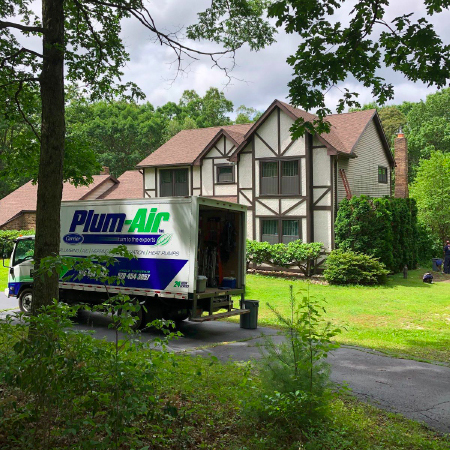 This Tudor-style home in Freeland had electric baseboard heat, and the energy bills were pretty expensive. On top of it, without any ductwork, the homeowners were relying on an old Mitsubishi ductless system for cooling that was no longer delivering the comfort promised to keep the home comfortable. The homeowners called the experts here at Plum-Air to see if we could recommend a solution that would keep them comfortable year-round while keeping energy bills from breaking the bank.
Problem: Tudor-style home had high heating bills and no central air, keeping the homeowners hot under the collar. The existing ductless system was for air conditioning only and was no longer running as promised.
Solution: A three-head Carrier ductless system will keep our homeowners comfortable throughout their home, while also keeping energy bills under control, even in the heat of summer or cold in winter.
When we came out to see the Tudor-style home, we spoke at length with the homeowners about their current comfort levels throughout the home, and what they needed most out of their HVAC system. Like most everyone, our homeowners wanted two things- to be comfortable in their home, no matter what Mother Nature dished out in terms of weather, and to keep their energy bills under control. Our homeowners already knew that ductless air conditioning could deliver them the comfort they wanted, but their current system was getting to the end of its lifecycle, and it wasn't designed to also provide heat. We knew immediately that a new Carrier multi-zone ductless heating and cooling system would be able to provide the homeowners the comfort they craved, all year long.
Carrier ductless systems are incredibly reliable ways to help heat AND cool your home. This is a heat-pump-based system, which can efficiently transfer heat from inside your home, pushing it outside to cool your home, or extract ambient heat from the air outside and transfer it inside, even when it's cold! These incredibly efficient systems use inverter technology to be able to deliver the right level of comfort you want and keep the room consistently comfortable while using the minimal amount of energy needed to do so.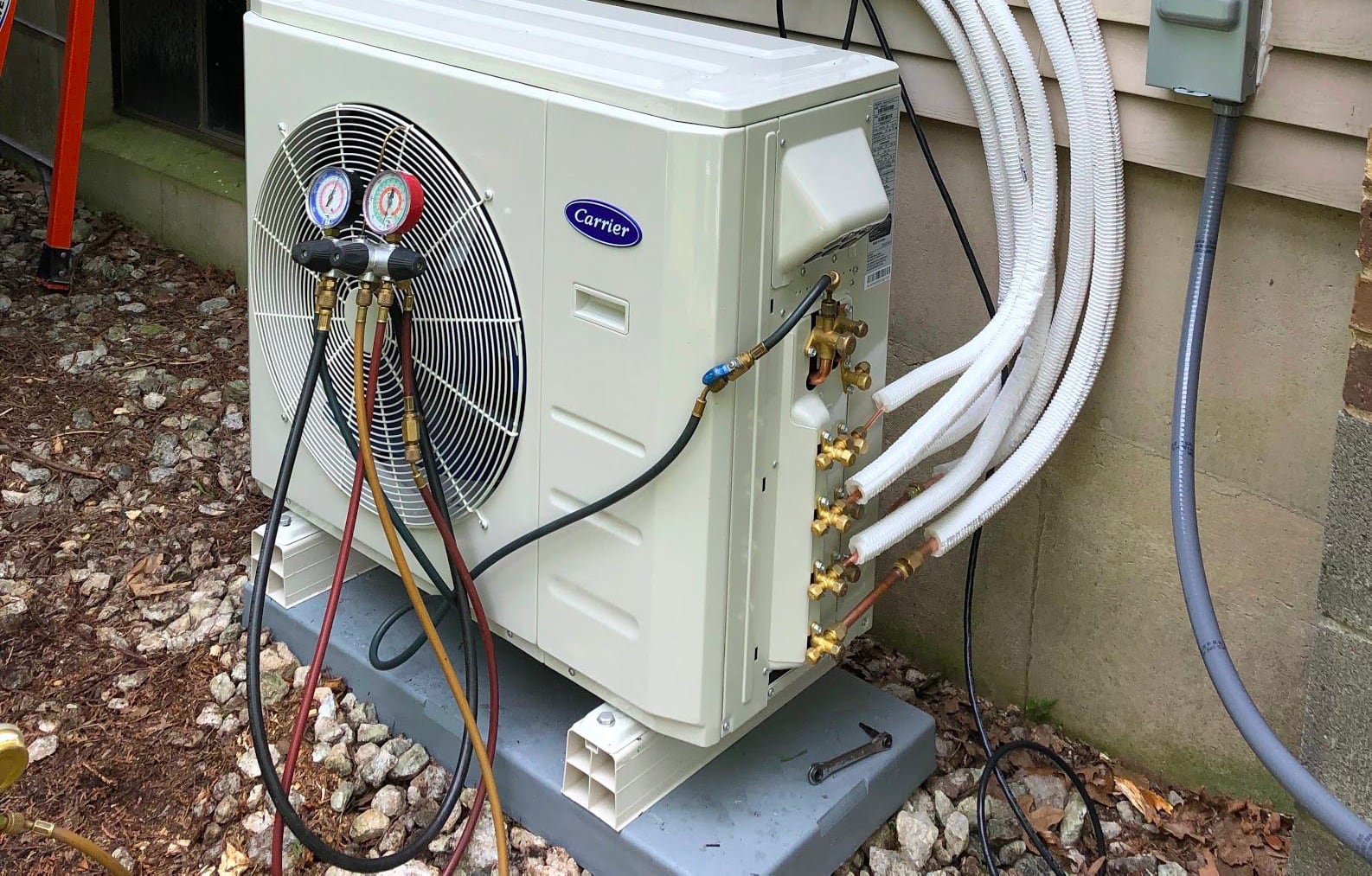 Carrier ductless systems rely on two main components- a high-efficiency outdoor condenser unit, and then indoor, wall-mounted heads, sometimes called cassettes, which distribute the comfortable air throughout a room, eliminating warm and cold spots. One outdoor condenser unit can power up to NINE indoor units, allowing you to get the comfort you want, right where you want it, using only one condenser! Plus, each indoor, wall-mounted head creates its own individually-adjustable zone of comfort, letting you set one level of comfort for the master suite, while having another level for the family room, and office like we did for this home in Freeland.
After discussing it with our homeowners, they settled on three heads and three zones of comfort in their home. The first, and arguably the most important area, is the master bedroom. Everyone needs a good night's sleep, and it's never great to wake up hot and sweaty or freezing in the middle of the night. The new Carrier ductless system will be able to provide great air conditioning and humidity reduction in the summer and add that touch of heat you need in the winter, ensuring our homeowners will get a great night's sleep every day of the year. Best of all, Carrier ductless systems are whisper-quiet, meaning you'll never have to worry about a loud air conditioning unit drowning out the other important sounds in the house- like teenagers coming home after curfew!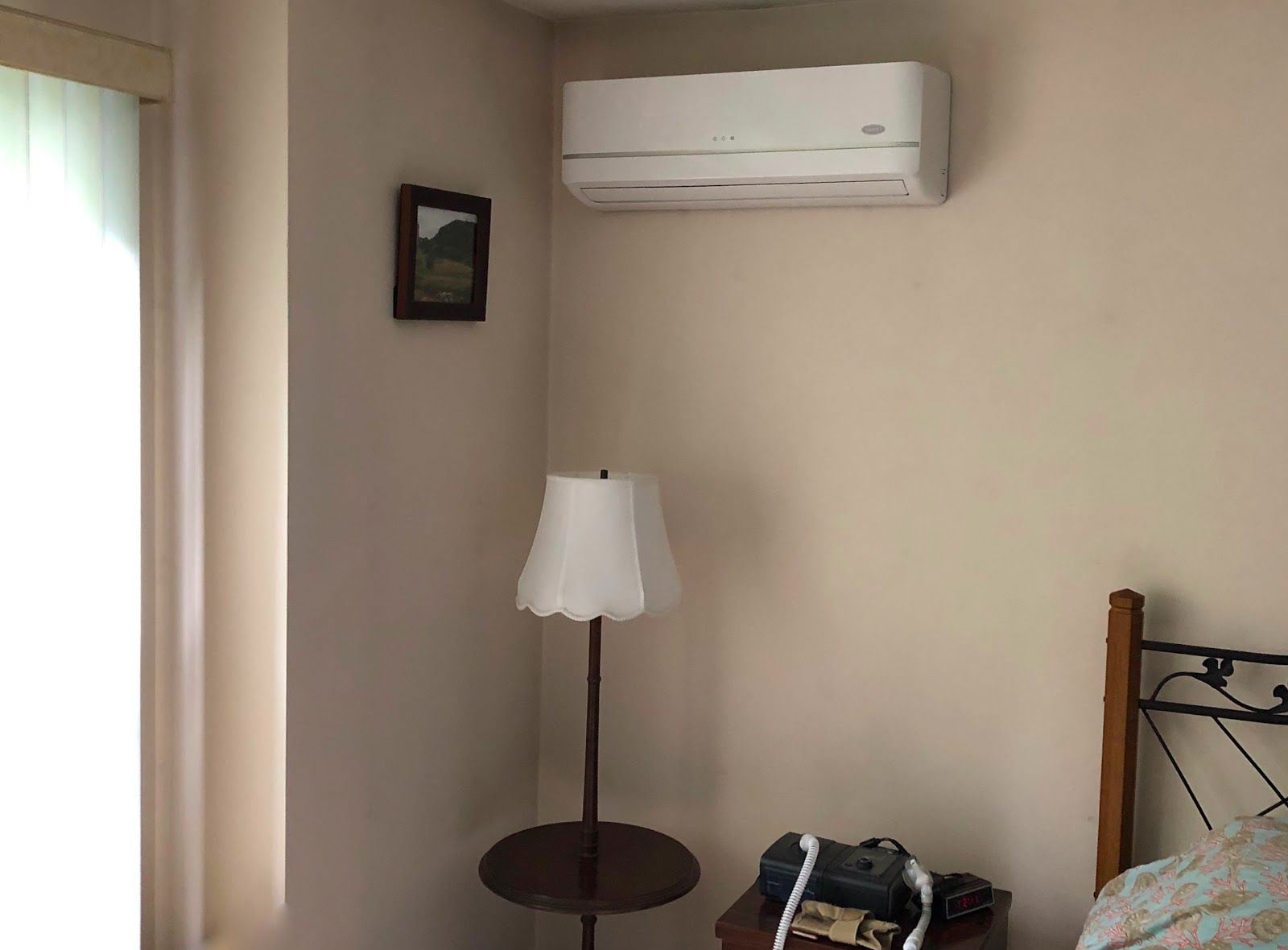 We then added an additional unit in the home office. With more and more people working from home and telecommuting at least part of the time, having a comfortable office is becoming a necessity. The Carrier ductless head we installed will allow the homeowners to have the comfort they need while working all day, but still being quiet enough that you can take a conference call or even record a podcast, without any background noise interfering with your sound quality.
Lastly, we installed an additional unit in the family room, allowing our homeowners to have the comfort they need, right where they spend the most time. The unit sits comfortably up on the wall and will let the homeowners just add that touch of heat they want on a crisp fall day, or the coolness they want after being outdoors this summer, and just relax with a cool drink and watch the game on TV.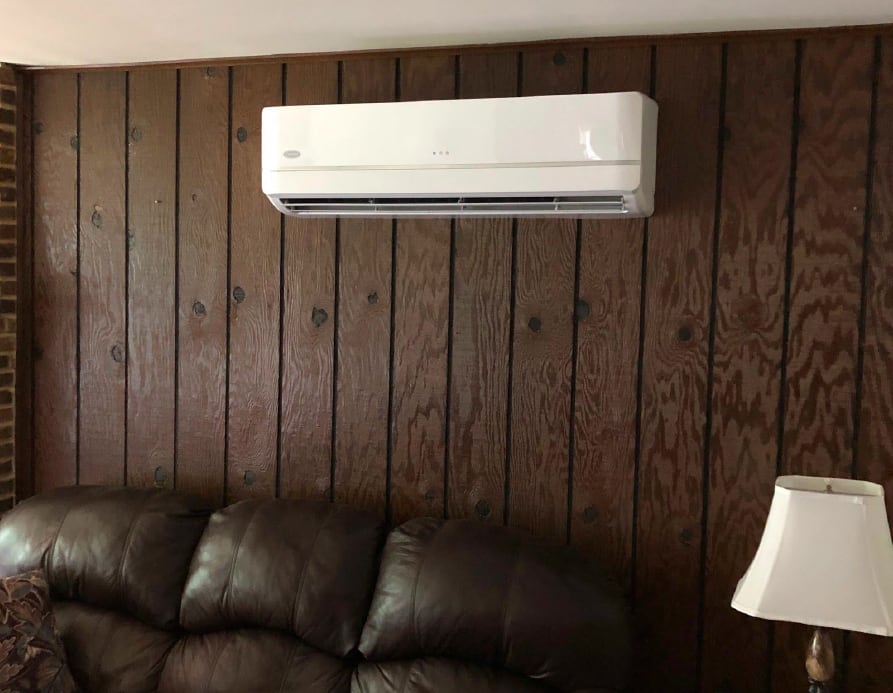 Each of the individual zones of comfort our experts here at Plum-Air created for our family also means savings on energy bills. The family will be able to get the efficient comfort they want, but also turn down or turn off the units when not in use. That means our homeowner can save money by not heating or cooling the bedroom or family room while they are busy working, but can just as easily toggle the unit on in the family room if they want to take a break from work at lunchtime. By not spending money on heating and cooling areas of the home not in use, many of our customers see reductions in energy bills that can be as high as 30%!
Because of the high energy efficiency of these systems, our homeowners also qualified for $600 in rebates, helping make this new system even more affordable. That means not only will our homeowners save money every month on energy bills, they'll also get an upgraded system for their home while taking advantage of the rebate savings.
If you're looking for a better way to heat and cool your home and want to save money on your energy bills, give us a call here at Plum-Air. A Carrier ductless system might be just what you need to get comfortable at last in your home, at a price that's affordable!