Carrier Ductless Mini Splits in Homes Near Manning, PA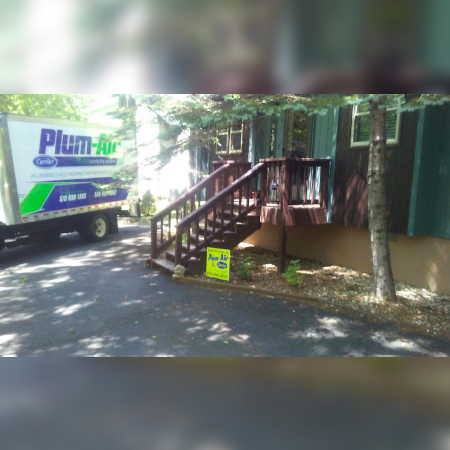 The homeowners of this contemporary ranch in the Beach Mountain neighborhood in Drums was having a problem. Their old Mitsubishi ductless air conditioning system wasn't working, and they needed help. When they gave us a call here at Plum-Air, we knew we could help them, based on our extensive experience with ductless heating and cooling systems.
Problem: Old Mitsubishi ductless air conditioning system wasn't functioning, leaving the homeowners hot under the collar.
Solution: New Carrier Performance series heat pump ductless system will give the homeowners year-round comfort, with a ten-year warranty!
When we went out to the home, it was clear why the homeowners loved their ductless system. Like many homes of this age, they did not have central air installed when they were built. But as time has gone on, the need for cooling, especially in the summer has increased, and more and more homeowners are looking for more efficient solutions than noisy window air conditioners.
Our homeowners added a ductless air conditioning system a number of years ago, and it wasn't functioning. During our inspection, it turned out it had a bad compressor, making repairs to keep the old system going expensive. Since the system was well out of warranty, it was time for the homeowners to consider a replacement.
Ductless systems consist of two basic parts- an outdoor heat pump unit with compressor, and an indoor, typically wall-mounted unit that distributes air efficiently throughout a room, ensuring complete comfort everywhere. That's one of the reasons why they've become so popular. Even though these systems are heat pumps, sometimes people opt to install air- conditioning only, not realizing that these super-efficient systems can provide supplemental heat as well.
We spoke to the homeowners about the new Carrier Performance series, which provides ductless heating and cooling with increased efficiency. Carrier uses inverter technology which allows the system to maintain a constant level of comfort, but use the minimum amount of energy needed to do so, unlike traditional heating and cooling systems that only have two modes- on or off. Carrier Performance series units allow the compressor to continually adjust speed to keep you totally comfortable- without racking up huge energy bills. That's great news when you're looking to be more comfortable no matter what the season!
The Carrier Performance series indoor wall-mounted units, sometimes called cassettes, have state-of-the-art sensors that help monitor both the temperature and humidity in a room and make the adjustments necessary to make sure the entire room is perfectly comfortable. The indoor units are controlled by an infra-red wireless remote that has a "follow me" feature, which allows the remote to essentially act as a focal point for the system, directing more of the hot or cool air to wherever it's placed. That makes sure that you get the maximum comfort right where you want it most, and you can make this adjustment whenever you want.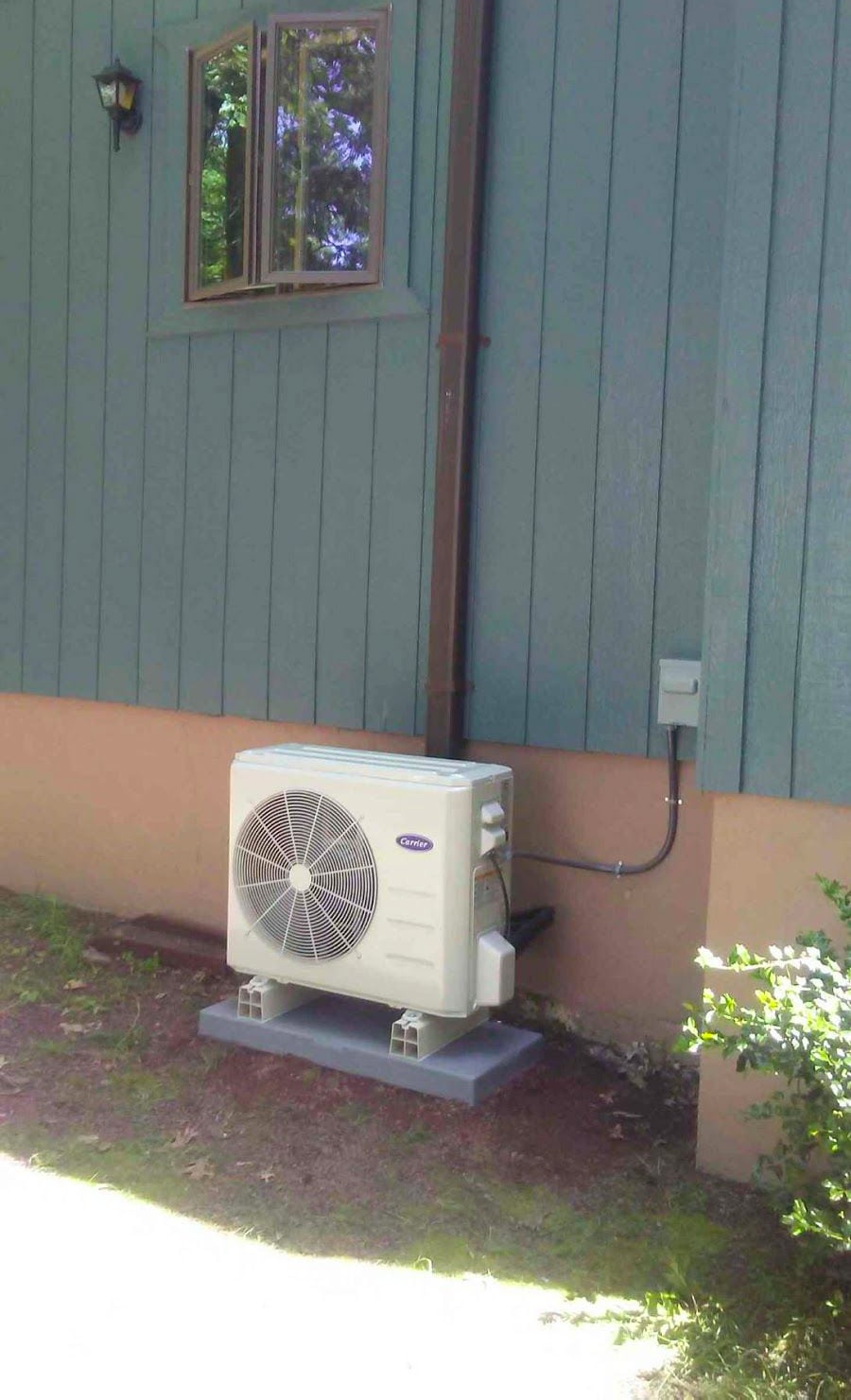 As you can see, the outdoor unit is small and sits naturally up against your foundation. The piping and lines needed to look just like a normal gutter or downspout might, and can be matched or painted to match your home's color scheme.
The best part about Carrier Performance Ductless is that it provides affordable comfort, all year long. As a high-efficiency system, Carrier Performance ductless can provide both air conditioning at the height of the summer, and that touch of heat you want, without having to turn on your whole home heating system. That makes ductless a perfect solution for those cold, rainy days we can get in Spring and Fall, and those Fall heat waves that would take you by surprise if you were relying on window air conditioners. By having a permanent solution like ductless, you can adjust the comfort level from heating to cooling and back again at the touch of a button, just the way you like it best.
The Carrier Performance ductless systems also come with a 10-year warranty, making them worry-free for homeowners. In addition, our homeowners qualified for a $350 rebate, helping to make their new system and all of its upgrades even more affordable.
If you are sick of relying on window air conditioners, or if you have hot and cold spots in your home, give us a call here at Plum-Air. A Carrier ductless heat pump system could give you the year-round comfort you crave, at a price that you can afford.